Starting 1 January 2019, all Italian businesses will be required to issue invoices electronically to other Italian businesses and citizens.
If you're enabled the ability for customers to request an invoice in your Storeden e-shop, this feature will be enhanced by a new window where your customers can enter all the required billing data.
When the customer checks out and clicks the "Do you need an invoice?" button, the window to enter the additional data will open automatically.

The buyer will then be guided on what data to enter, specifying if the buyer is a business or a person.

If the buyer is a business, the following window will open: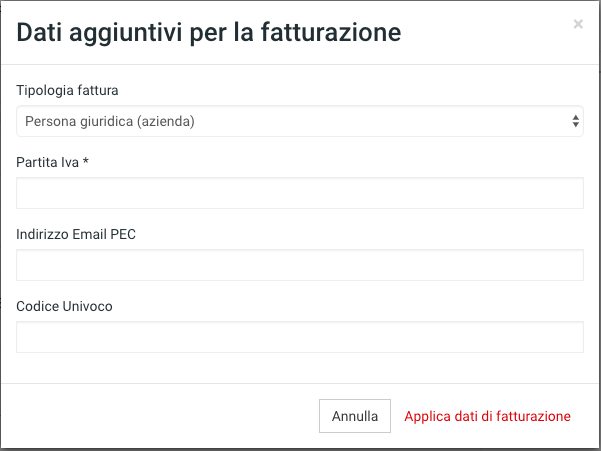 If the buyer is a natural person, the following window will open: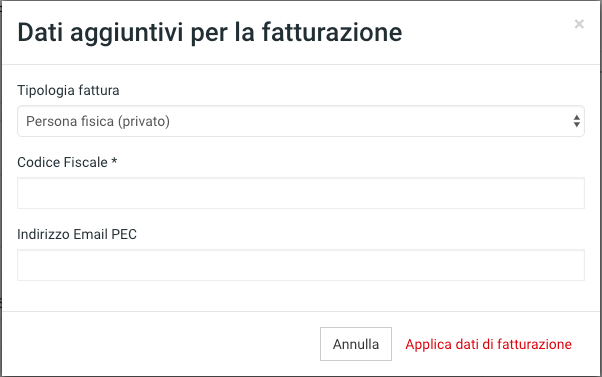 During checkout, the customer can modify the data they've entered, by clicking Update Data:

Within the order summary, in the Management Dashboard for your e-shop, you'll find the information specified by the customer when requesting an invoice.
The electronic invoicing data will be available within the order info section and can be exported to your electronic invoicing system.
The Storeden App Market will soon offer the Digital Invoice application by Giarvis, a SaaS solution for the generation of XML files to be sent to the Italian Tax Authority.
The template of your e-shop will be updated automatically to this modification.
PLEASE NOTE: The current invoicing feature will be removed as of 31/12/2018.