With Mailup Sync application you can synchronize your Storeden customers with the contacts of a specific MailUp list. First of all you need an account on MailUp. If you do not have one you can create it here. When you first log in, MailUp will guide you in creating your first list. Once the creation of your account is complete, you can connect it to the Storeden app by entering the credentials (username and password) provided by MailUp.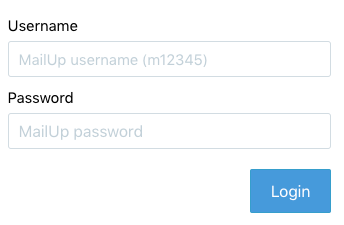 Once you have successfully logged in, the app invites you to choose the MailUp list to which you want to synchronize. Later you can choose if:
send an email to request confirmation of your customers' registration, a good rule in email marketing. Pay attention that, in addition to new contacts, even those already present in the PENDING and OPTOUT status will receive the email. To find out more you can consult the guide provided by MailUp http://help.mailup.com/display/MUG/Confirmation+request
sync even guest customers, who bought from your store without registering
unsubscribe from the newsletter customers who are no longer registered to your store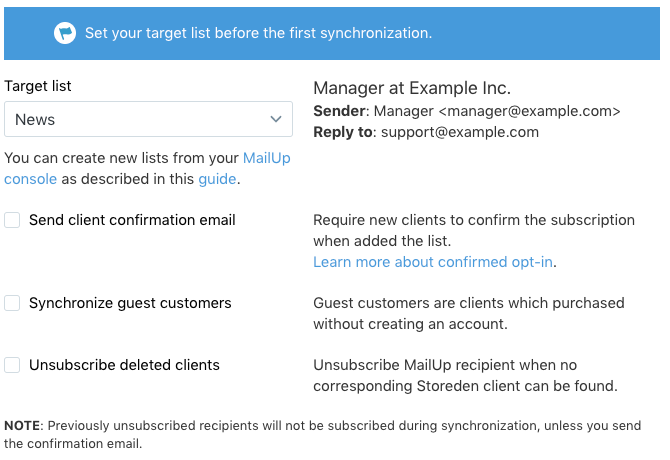 MailUp Sync, in the Field Mapping section, also allows you to choose what other information to send to MailUp that will be stored in the personalizable personal data fields (http://help.mailup.com/display/WUG/Recipient+fields). Initially the table of fields will be empty, you can add new associations by clicking on the "Add" button and remove them through the "Remove" button on the corresponding line. In the first column you find the information that can be obtained from Storeden about your client, in the second one you find the MailUp registry field in which the selected information will be saved. Be careful not to choose the same MailUp registry field in multiple associations: only the first choice will be kept. The association sorting is not important.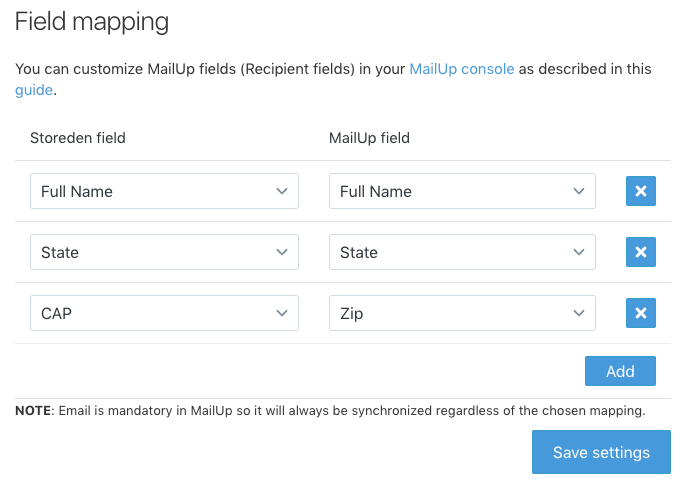 Remember always to save changes after choosing settings. When the system completes the first synchronization you will be able to view the results in the app section dedicated to account.

MailUp allows you to try the platform for 30 days for free. Then you can subscribe a plan directly from the MailUp site, choosing one of those proposed https://www.mailup.com/pricing/email/.