This application provides a feed link in the format used by the Kelkoo price comparison service. The application allows you to customize the feed and decide which product categories to send to Kelkoo. Once the application is installed, you'll have to provide:
merchant ID;
country code (eg. "it", "de", ...).
Both data can be requested directly to Kelkoo by visiting the website.
From the same section, you can enter the zip code and the short description (max 150 characters) of the store. This information, if any, will be sent in the feed.
The app will also install the tracking script to integrate the Kelkoo Conversion tag on the eCommerce site.
If you want to configure the Conversion tag integration on multiple countries, you can insert additional merchant IDs with the corresponding country codes.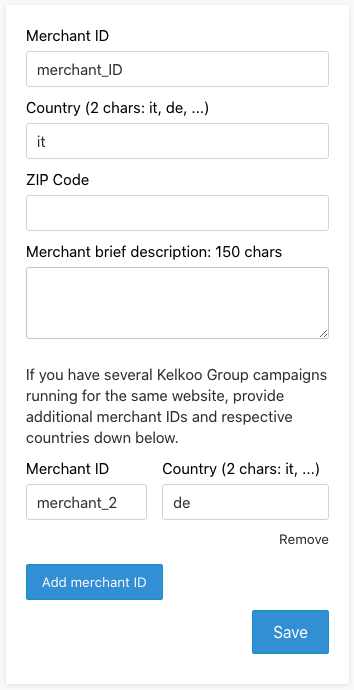 For a proper feed generation, you have to select the product categories you want to be included from the related section on the app page.
The list of products sent in the feed can be further filtered using a filter, which can be specified in the "Filter settings" section.


Finally, from the "Fields mapping" section you can map filters and/or attributes to specific Kelkoo fields, which will be sent in the feed. Inside the dedicated page you can also find the instructions for mapping the different fields.

In the top left section of the app page, you'll see the URL to the feed that must be provided to Kelkoo.
For stores with multi-domains, as many URLs to the feed as multi-domains will appear.
Each URL to a multi-domain, will generate a feed in the language of the multi-domain.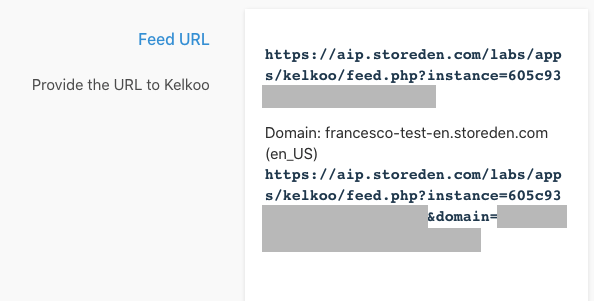 The calculation of the shipping costs sent in the feed will be based on the country of the store.
In the case of a multi-domain feed, the default country configured for the multi-domain, if any, will be used.
For more details and information about the service offered by Kelkoo, click here.