This article explains the structure of the control panel. The control panel consists of three fixed areas:
blue bar at the top with some features;
left sidebar with direct access to the various sections of the menu;
footer with useful links.
Let's look at them in detail one by one. The blue bar at the top gives you direct access to specific areas:
Orders, where incoming orders will be managed;
Clients, where you can view all the customers registered with your store;
Notifications;
Messages from your customers.

From the blue menu bar, you can quickly access the sales channels, the Theme Store, the App Market and your account information.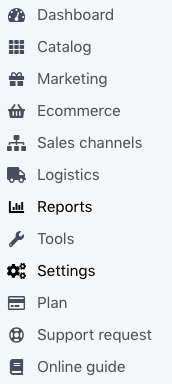 The left sidebar grants you access to the various sections. In addition, through the Search field, you can easily search products by product code and/or EAN or orders by order number. Each section is divided into easily navigable subsections. From the sidebar you can also directly access the online guide and support request via a help ticket.
Finally, the footer contains a series of useful links, including:
the link to the online guide;
the link to the support request section;
the link to the developer portal;
the status of the platform;
the flags of the languages to change the language of the back office (currently available in Italian - English - Spanish).