Thanks to Storeden, you can create and manage your returned merchandise requests simply and intuitively.
Requests made from the front-end
At any time after receiving the order, customers can request a return by clicking the returned goods/substitution request button from the order summary page: www.shop-name.com/orders-return or www.shop-name.com/orders-return/orderID. By clicking the button of the order, a new return merchandise request ticket will be opened indicating the products to be returned, the quantity and the motivation. Once the request is sent, the customer must wait for an acceptance or rejection email from the seller. Once the request has been sent, the seller will receive an email with the details of the request and a link to the control panel.
Requests made from the back-end
A return merchandise request can also be generated by the seller directly from the back office. To do so, navigate to the order detail page and click New Return. These requests can be generated from the back office only when the order is in at least the Delivered state. Otherwise the return section will not be visible.

Here you must indicate the product to be returned, the motivation, the quantity and any additional notes.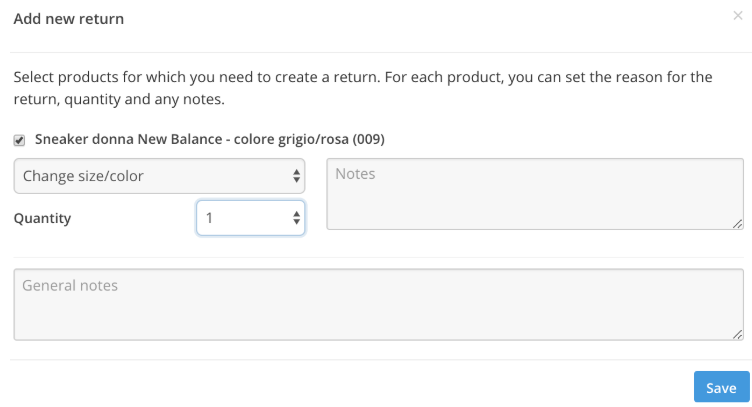 Merchandise return request management
The Returns Management Section can be accessed from the link that will be sent by email once the request has been submitted. Here you will be able to see the product that is the subject of the return and the seller can add and attach all the necessary documents in order to be able to fulfil the order (labels, policies, documentation, etc.). The attachments will be added to the File >> Documents section (maximum 4 MB per request). Documents can be attached directly from your computer.
Be careful! You CANNOT delete the attachments after you have sent your acceptance/denial email.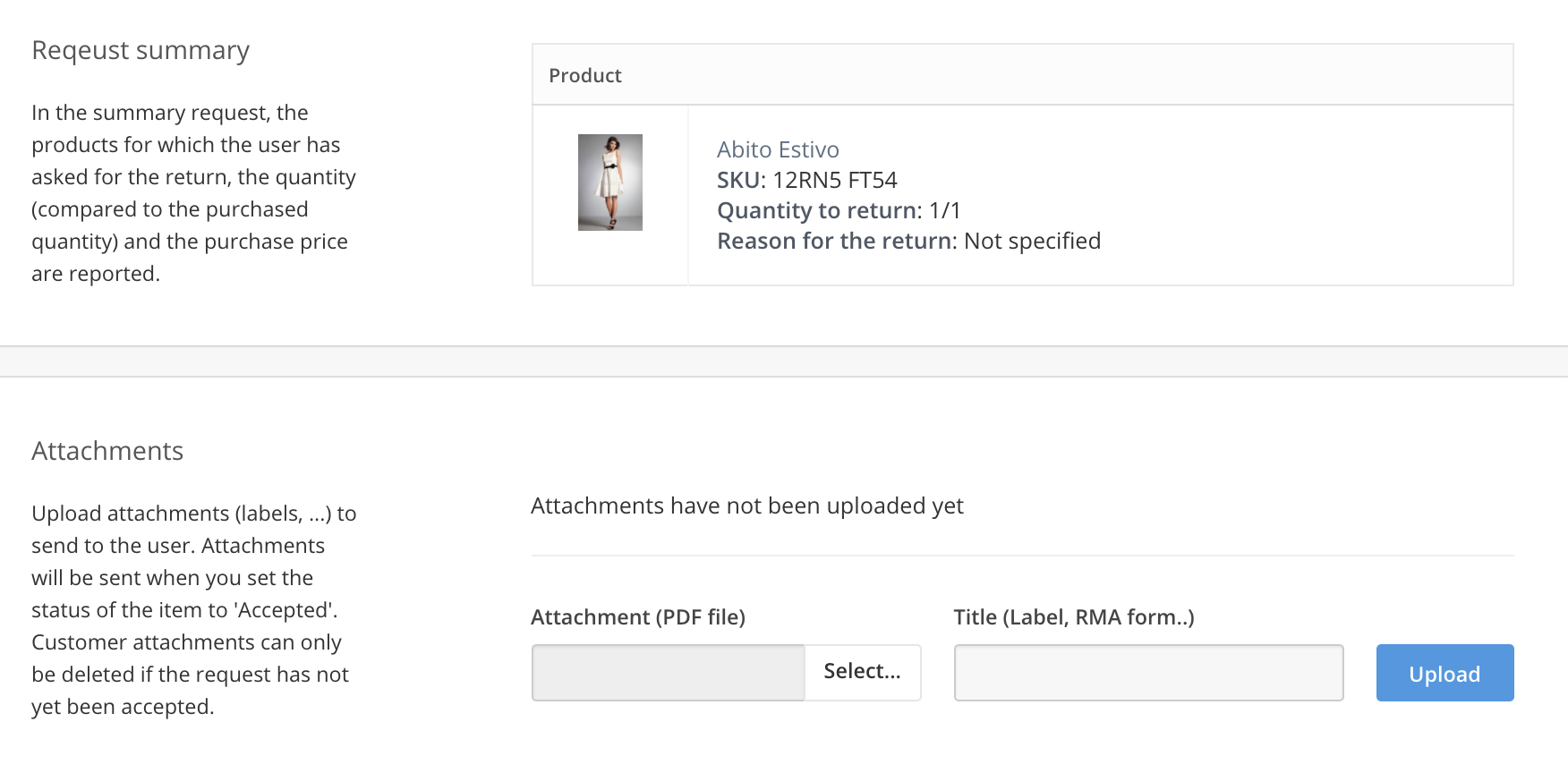 Finally, you'll need to enter the status of the request.

If the request is set as Denied, it will not be possible to change the status later. An automatic email will be sent to the customer with the justification of the refusal.
If the request is set as Accepted, the user will receive an email with acceptance and guidelines (various attachments) to complete the return.
Subsequently, you can change the status to Arrived or Closed. Once the request is set to closed, it will no longer be possible to change the order status.
Note: Refunds do not occur through the return merchandise system. You have to refund the customer through the payment gateway as agreed upon directly with the customer (bank transfer, paypal, etc). From the Return Merchandise Authorization (RMA) summary section, go to the Settings section, where you can enter default text as instructions for accepted and denied return requests. It is also possible to configure the order status (paid or shipped) from which the customer can request the return.