From the Orders section of your control panel you can create an order manually for your client by clicking on the button "Create Order".

You will see the following screen, which will allow you to add products from the catalog or out of the catalog.

By clicking on the button Select product you can select products directly from your catalog:

By clicking the button Out of Catalog, you can add a product that is not in the Storeden catalog. You will be able to enter product name, quantity, SKU and price.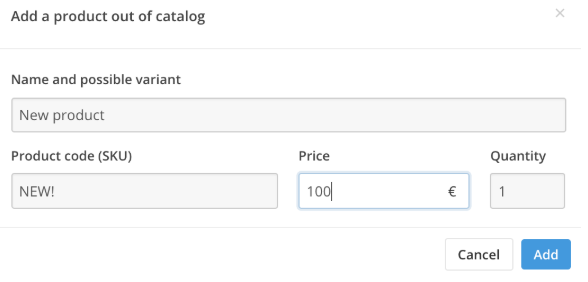 Once you have added the product, you can select the customer or add a new customer with the related data. If the customer is new or is not related to a registered user, the order will always be made as GUEST.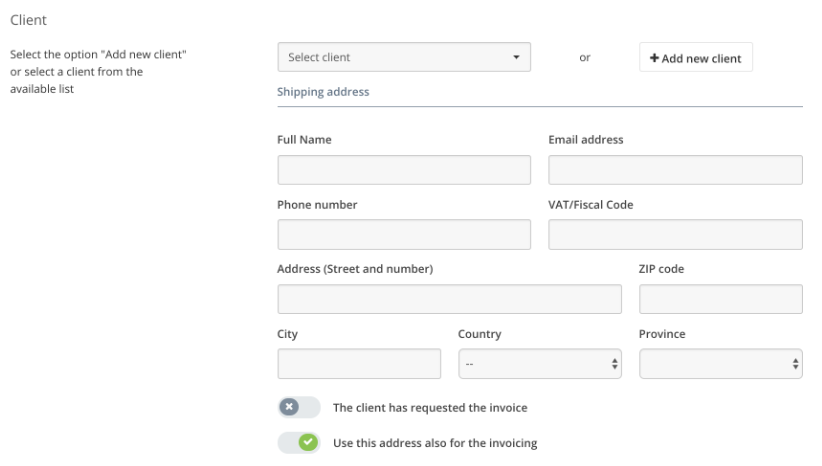 You can choose whether to use the same shipping address for billing or not. Otherwise you can add a different billing address by unchecking it. Once you have done this, you can select the payment method (among those enabled in your control panel) and whether the order in question is "pending payment" or if it is "paid".

If the order is in "pending payment" state, an automatic email will be sent to the customer containing a link through which the customer can click on to pay (only for PayPal or Credit Card payments). The template for the following email can be customized under the section Settings >> Template Emails >> New Manual Order (send link payment to the Customer). Conversely, if the order is "paid", the order confirmation email will be sent.

Next, you will find a section dedicated to notes. All notes here will always be visible to the final customer. Finally, in the last section there will be a summary of the order.
Pay attention! Clicking on the Discount item you will be able to add a discount or a discount coupon to apply to the final price.

Clicking on the Shipping item you can manually add the shipping cost or you can select a shipping method that already exists in your ecommerce.

 If the selected payment method is the Cash on delivery, you can add a surcharge for the cash on delivery payment method chosen.

 By clicking on the button Create Order at the end of the page, the order will be created and the related emails will be sent to the final customer.