Storeden lets you customize the gift cards that customers can purchase for their friends and/or family.
GIFT CARD SETTINGS AND CREATION - BACK OFFICE
To set up gift cards, open the Marketing >> Gift Card section:

From here, you can take several actions:

Using the "Add Gift Card" button, you can configure a new gift card to use.

In the Gift card name field, enter the name of the gift card used internally. Credit value indicates the amount of credit that will be assigned to the customer registering the gift card code. Gift card price is the total price that the user will pay to get the gift card.
Using the Overview button, you can see the summary of all gift cards created and a summary of the remaining credit on each card.
Using the Settings button, you can set the image to be used to represent the gift card in the order summary.*
In the Redeemed/Purchased column is the number of gift cards that have been purchased and the number of gift cards redeemed.
2. GIFT CARD VISUALIZATION - FRONT END
The gift cards set via the control panel are visible on the front end at the /giftcard url. (e.g. www.your-store-com/giftcard). You can set this url to the main menu through the use of a custom menu.

or through a special box on homepage. Gift cards will be displayed as follows:

3. GIFT CARD REDEMPTION
Once a gift card has been bought, the recipient should redeem the card via email, clicking the "Redeem gift card" button in the email they receive. The recipient will then be forwarded to his/her account. S/he needs to click the "Add to your account" button to add the gift card to his/her profile.
4. USE/PAYMENT VIA GIFT CARD
For order payments via gift card, the order summary indicates the payment method as gift card. If gift card amount is not sufficient to cover the entire amount of the order, the user will be asked to choose a second payment method to successfully complete the order:

Then, in the order detail page (in the backoffice), the checkout is indicates as partial ("partialgiftcard").
5. EMAIL TEMPLATE SETTINGS
Lastly, you can customize the email templates that are sent to the customer when purchasing the gift card. To change your email templates, go to the Settings > Template Emails section: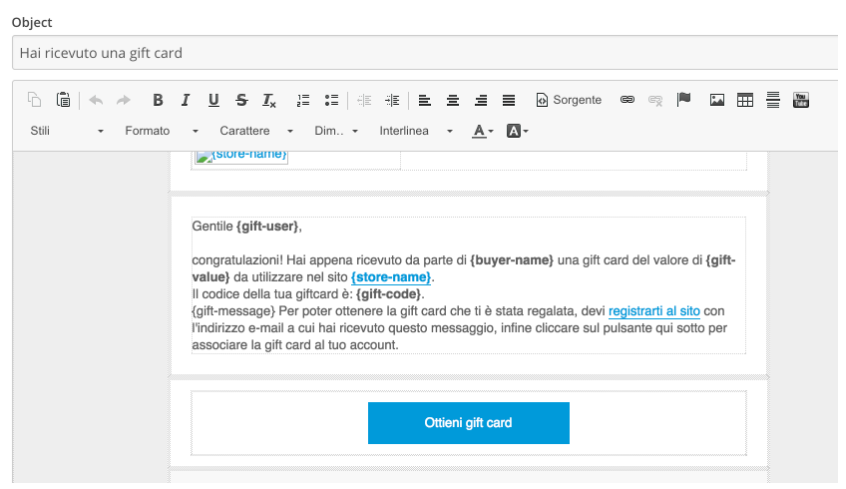 *If not displaying correctly, please contact your Storeden representative for open a help ticket.