Below is some helpful information about uploading images of products and their variants.
Main product image
A main product image must be uploaded for each product. Click the image box to select an image from your computer/tablet.

Related Product Image
Related product images can be uploaded by clicking the additional boxes that are enabled after loading the main image. By clicking on the star at the top left of the box, the image will be set as main. All remaining images will be correlated.

Caution! Images must be uploaded for one product at a time to ensure that the same photo, uploaded for multiple products, is not mistakenly removed from one product, causing it to disappear from all other products as well.
Images of product variants
Each product can have multiple variants. Images of variants can be uploaded once the main product description is compiled by going to the "Save and Manage Variants" section.

Variants images can be loaded:
by clicking on the image box, uploaded directly from a computer or tablet;
by clicking on the icon with the three bars at the top right to retrieve a previously loaded image in the File > Gallery section.
From the Catalog > Variants section, you can also enter color variants via a color box, as in the example below. By clicking on the color box, the system will display the photo with the selected variant.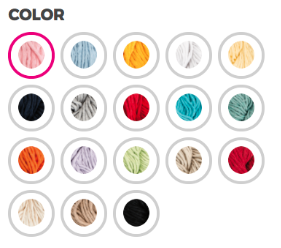 Caution! The illustrated solution above must be supported by your template. For more details or to receive a quote to add this feature, please write to customercare@storeden.com