Variants will be primarily set within each product page, you have to enable the flag to "use variants":

In the insertion product page, you will find the label 'Use variants'.
By choosing YES, some fields will open.
In the Variant field, enter the title of the variant (our example: Color) and in the Options field you can enter the variant values (our example: blue, red, yellow). Options values can be entered by clicking in the + key or by writing the option in the field and then pressing Enter.
Pay Attention! Some characters are not allowed in the variant's title (eg: / – ?  _). If you want some of these characters in your variant's title, you can insert them in translations of the variants by going to the Translations >> Variants section. For what concerns the options, they are separated by a comma and not by other symbols (like / o -), they can not contain special characters such as: – underscore (example: lilla_blu) – slash (example: lilac / blue) At the end of the page you will find two buttons: 'Save' or 'Save and manage variants'.
Clicking the second option, you will enter the amount of products from each variants, associate an image to the variant, enter the SKU and EAN code and an additional charge if required.
Finally, in Catalog >> Variants section, you will find all the created variants:

From the Catalog >> Variants section you can also enter the color variants with a colorful box, as in the example below. By clicking on the color box, the system will display the photo with the selected variant.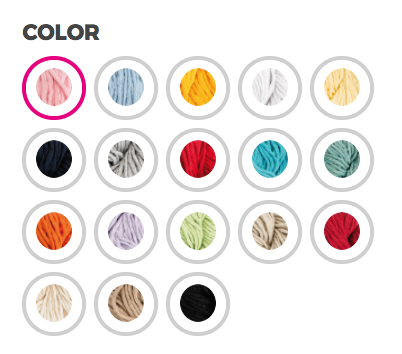 Pay attention! This latest illustrated solution must be supported by your template. For more details or to receive a quotation for this feature, you can write to customercare@storeden.com