Storeden offers the payment methods of Amazon: Amazon Pay. Amazon Pay allows you to pay on websites with the data entered in your Amazon account. For more details: https://pay.amazon.com/it How to configure Amazon Pay Under Settings >> Payments >> Amazon Pay section you can start setting up the Amazon Pay payment method (you must necessarily have an Amazon Pay account).

Clicking on the "Configure" button, the wizard will start.

In this section you have the possibility to choose between various options:
Environment (production / sandbox): Set the payment in active mode (production) or in test mode (sandbox). With this latest one you will not receive real payments.
Zone (Europe / United States): Accept payments for the Europe zone or for the United States.
System (Login & Pay / Pay): With the Login & Pay system you allow your customers to register in your eCommerce with their Amazon account, as well as make payments. By setting the system in "Pay" mode, your customer can make purchases with the Amazon account, but not register in your eCommerce.
Checkout Type (Payment during order / Payment during shipment): This feature allows you to configure the payment system to receive the sum of the order at the time the order is confirmed (payment during order) or to receive payment of the order, at the time that this is sent (payment during shipment) On the next screen you need to paste the configuration keys provided by Amazon Pay: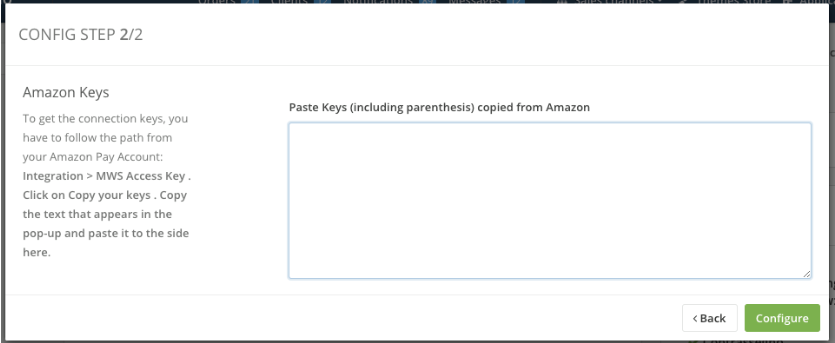 To get Amazon Pay configuration keys, connect to the Amazon Pay seller panel. Then select Integration >> MWS Access Key.

In the page that opens, click on the "Click to copy keys below" button.

On the window that opens, select all the content, including the brackets. Pay attention! Before extracting the MWS access key, make sure you have completed the configuration procedure for your site and that the keys include "client_id" and "client_secret". If these two data are missing, check the guide at the bottom of the page that tells you how to complete the procedure.: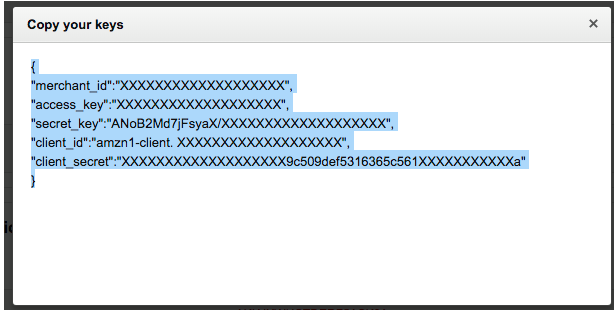 Enter the keys copied from Amazon Pay in the configuration page in Storeden and click on "Configure".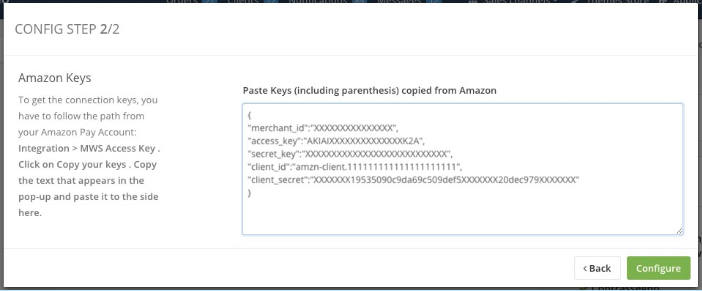 If the inserted keys are correct, the configuration window closes and you just have to click on "Save" at the end of the page. You just have to set up on the Amazon Pay seller panel, the url necessary for the operation: On the Integration> MWS Access Key page, click on the link in the box.

Set the values as in the image below: NB: Remember to replace www.my-store.it with the domain of your store.

Seller website URL: https://www.my-store.it/ipn/amazonpay.php
Integrator URL: https://production-ipn.storeden.com/ipn/amazonpay.php  
How to complete the registration procedure withX$ Amazon Pay
Enter the Amazon Pay panel in the Amazon Pay Login section and complete the profile with this information: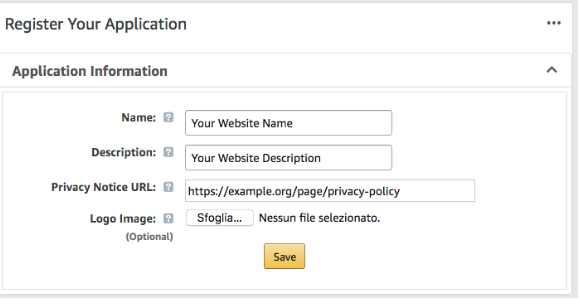 Store name
Store Description
Link to the privacy policy
Once completed click on Save. Then enter the Web Settings section and click on Edit.
In the Allowed JavaScript Origin section you can enter the link to your site, while in the Allowed Returned URL section you can enter https://auth.storeden.com/amazonpay. Finally click on Save to save the information entered!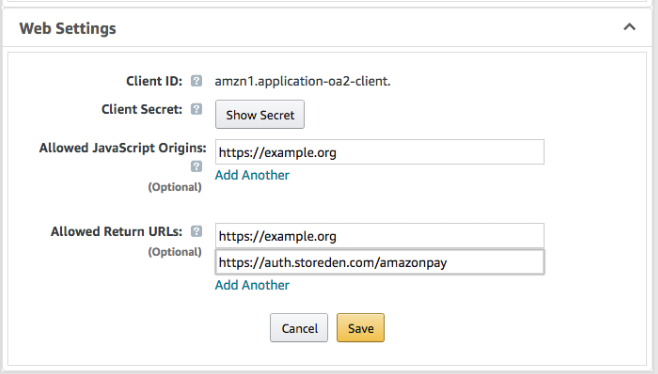 The integration with Amazon Pay is complete!