From the Catalog > Products section, you will find an overview of the products uploaded to your backoffice and all related stocks and availability. From this section, you can add products:
manually, by clicking Add Item;
in a batch, thanks to the CSV Import/Export function.
By clicking on the Import/Export button, you can upload products via CSV and/or XML files. Caution! The import/export function via CSV or XML is available only with some Storeden subscriptions. By clicking on the example CSV file, you can see how the file must be compiled.

Guide to proper CSV compilation.
The product summary panel allows you to manage your warehouse:
On sale: used to enable or disable the sale of a product
Stock: allows you to change the number of items sold by clicking on the numeber or on the variants icon
Related: allows you to associate some items to others in order to manage "Recommended" items or combined accessories.
Featured items: allows you to enable or disable the display of the product inside the "featured products" carousel in your shop. At the same time, you can implement several massive changes related to the products. By selecting multiple products (ticking the boxes to the left), you can change certain product characteristics as a batch.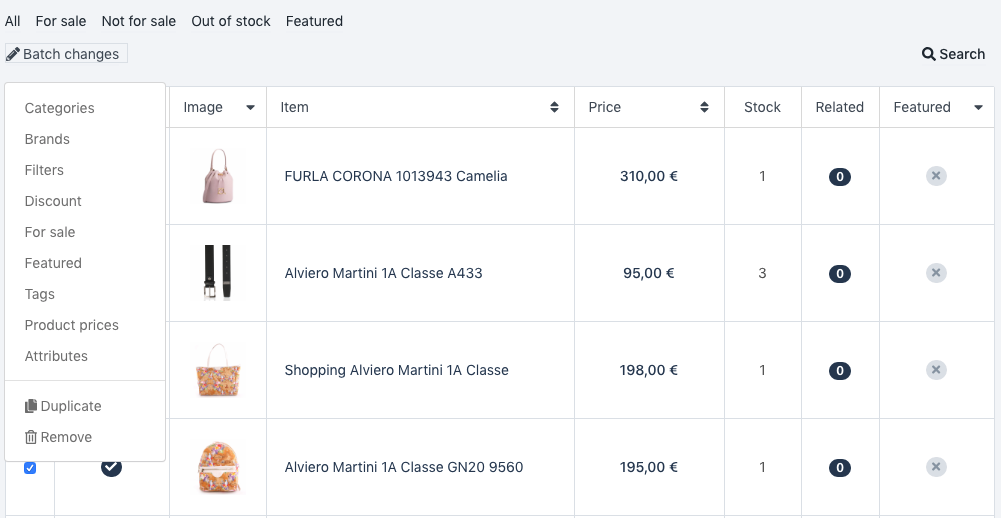 By opening the "Batch changes" drop down menu, you can modify products as For Sale - Not for sale - Featured items. It is possible to implement changes for multiple products at once, for categories, brands, filters, discount variation, add/or remove tags or delete products. Lastly, through the Search button, you can search for products with certain characteristics: product title, SKU code, EAN code, categories, brands, etc. You can also perform and save custom searches.