Under Marketing >> Coupon section you can create and customize your coupons. Coupons are a very useful promotional tool.
With Storeden you can create promotions by associating the coupon with a promotion code to provide to your customers, who can get a discount using it at check-out.
So let's see how to create coupons. Enter the Marketing >> Coupon section and click on "Add".
In the left column you can customize and complete the coupon, while in the right column you will always find a summary of the coupon that you are customizing.
1. Enter the basic coupon information:
discount code that can be generated automatically using the "Generate code" function and description where to enter the coupon's personalized title.

2. Enter the type of discount, value in percentage or fixed amount and the discount value.

3. Enter the validity period of the coupon

4. Enter any usage limits

For those who do not have advanced coupon management, the limits that can be set are:
minimum amount of the cart
number of uses
For those who have activated advanced coupon management, the following usage limits are also added: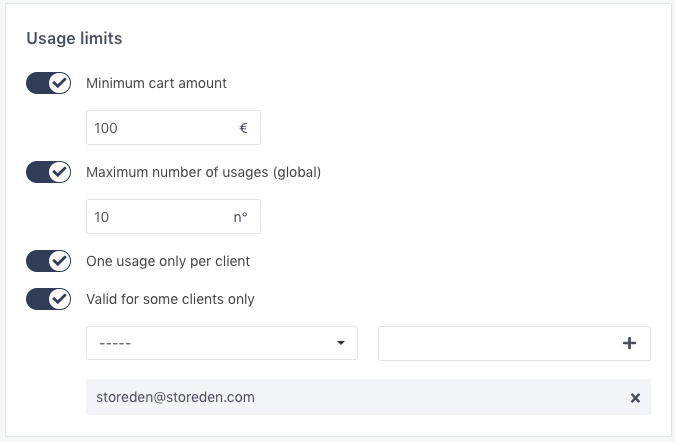 one use per client. It will therefore not be possible for the customer to use the coupon multiple times;
"valid  for some clients only" allows to limit the use only to some customers, based on the email address entered.
5. It is also possible to make free shipping (all the profiles of shipments created) or you can make a specific shipping profile free if selected to cart.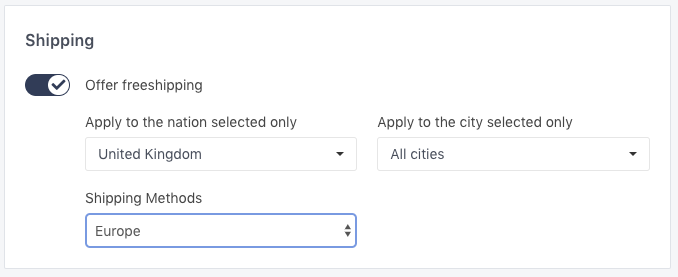 6. Finally, it is possible to limit the use of the coupon on the basis of other parameters including:
only non-discounted products
limit use only to certain selected products
limit the use only to certain brands
restrict use only to certain selected categories
limit use only to products that have a certain tag
limit use only to products that use a certain attribute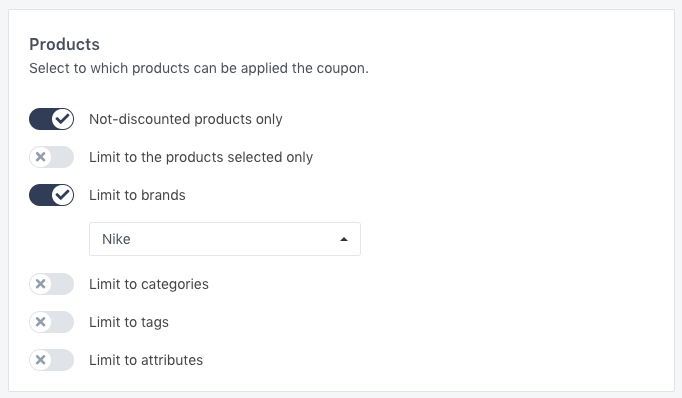 Once you have completed the insertion of the coupon, you will find a summary on your right and you can proceed with the activation of the coupon by clicking on "enable discount".