Once your Amazon account is activated and associated to Storeden's Amazon Products Sync service you can open the control panel. The control panel is shown here: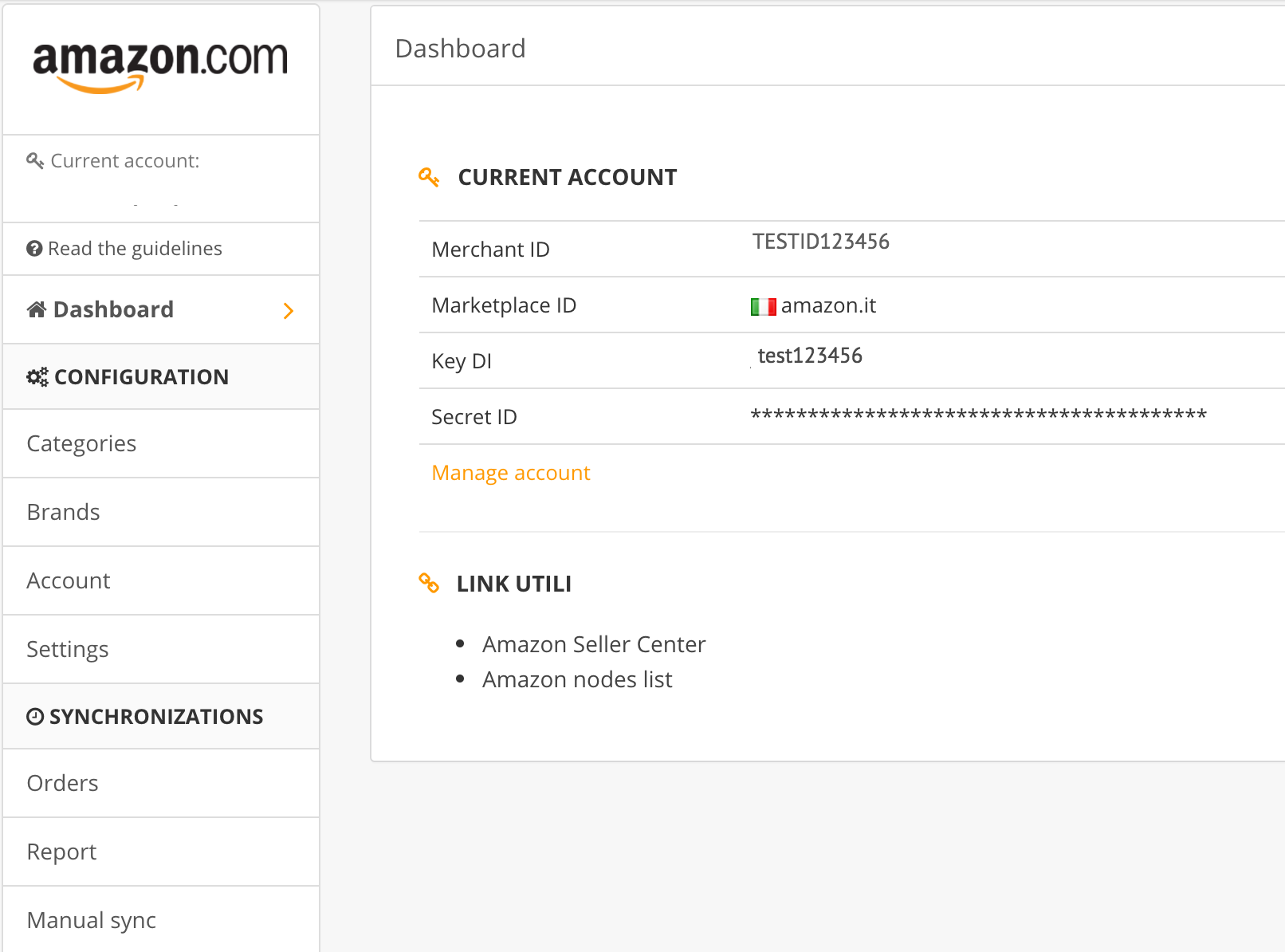 Its main features are:
Dashboard: the dashboard provides a summary of your current account and some useful links.
Categories: here you can configure which product categories to synchronize
Brands: here you can manage the single brands in your store
Account: here you can manage your Amazon account
Settings: here you can choose which synchronization method you want to use with Amazon and general options relating to products.
Orders: here you can see all imported orders and related Storeden orders
Report: here you can see all your Amazon synchronization reports and you can analyze any errors
Manual Sync: here you can launch a manual synchronization
Products Control: here you can see all the orphan listings that are present on Amazon and not in Storeden.
Category Configuration
From the sidebar, you can open the Categories menu. Here you can configure price variations, processing times and other options for products.

Below are more details about the chart's columns:
Synchronize: indicates whether a category should be synchronized to the Amazon account
Storeden category: this is the category tree in Storeden. You can synchronize subcategories only
Price variation: here you can change the price once published on Amazon. All products in this category will have the price variation indicated (as a percentage or set number).
Dispatch time: here you can set the processing time from the moment the order is received to the shipment of the products. The expected time will range from 1 to 30 days.
Node: refers to the navigation nodes to which the item needs to be assigned. You can classify your orders by assigning a "browse-node", so that the items will be located within the Amazon virtual warehouse.
Gift options: lets you indicate the possibility of requesting a gift package and/or gift message
Products: refers to the number of products that are inside the specific category.
Settings
This is where you can set all the general synchronization settings.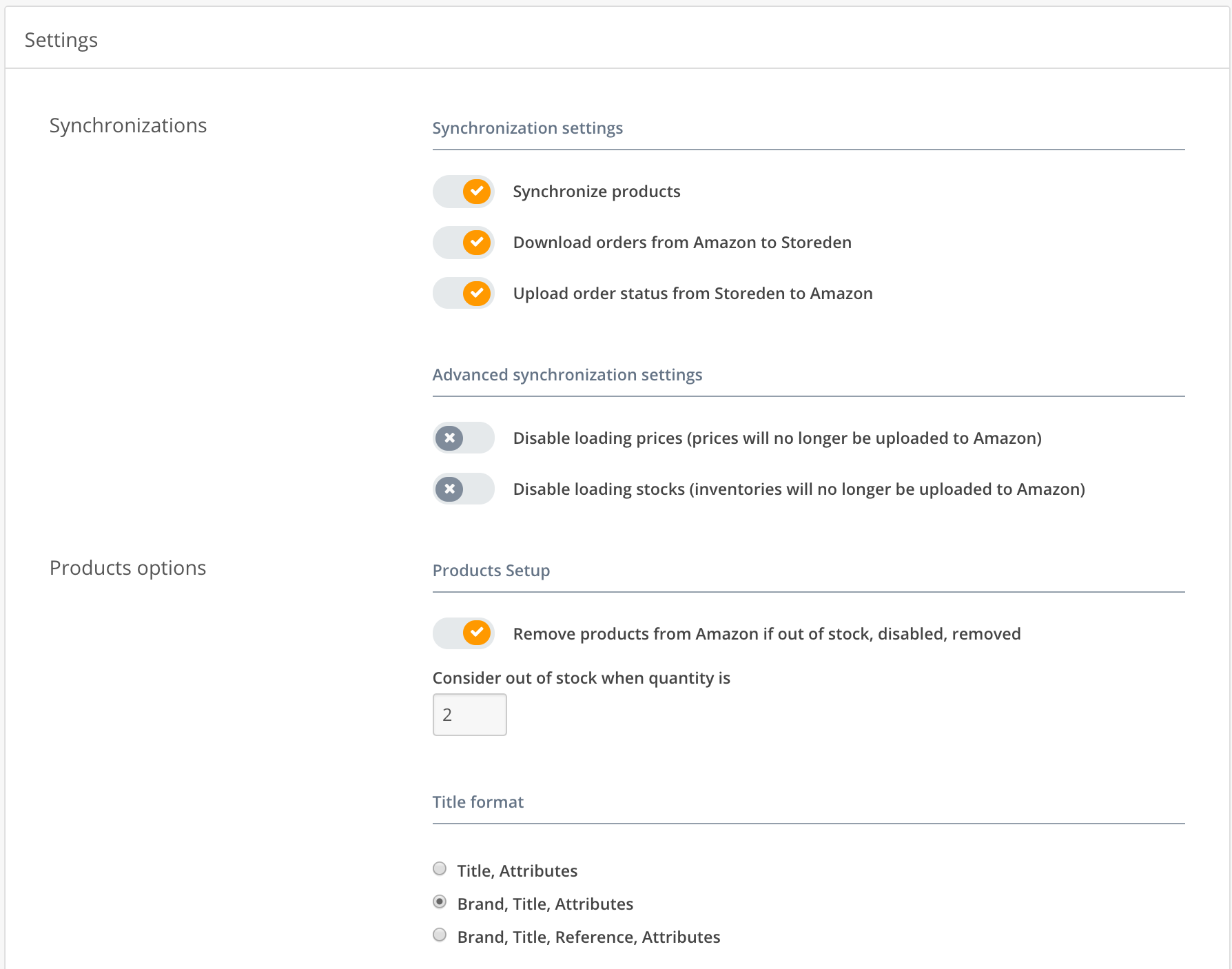 More in-depth:
Synchronize products: sets automated synchronization with Amazon (which takes place twice a day)
Download orders from Amazon to Storeden: set whether to automate the order download process from Amazon to Storeden or not
Update the order status from Storeden to Amazon: If enabled, by setting "status: sent" on Storeden, this information will be transferred to Amazon
Remove deleted products from Amazon: If a product is deleted from the Storeden platform, it will be removed from Amazon also
Consider "out of stock" when the quantity is equal to: All products that have a stock count equal or less than the number specified will be marked as 'sold out' on Amazon.
Title format: you can choose the title format to use in Amazon
Order details
Unten sehen Sie ein Beispiel für importierte Bestellungen von Amazon nach Storeden. Sie können die Amazon ID, den Import-Zeitstempel und die Storeden ID sehen. Durch Klicken auf die Storeden ID können Sie die Bestelldetails öffnen.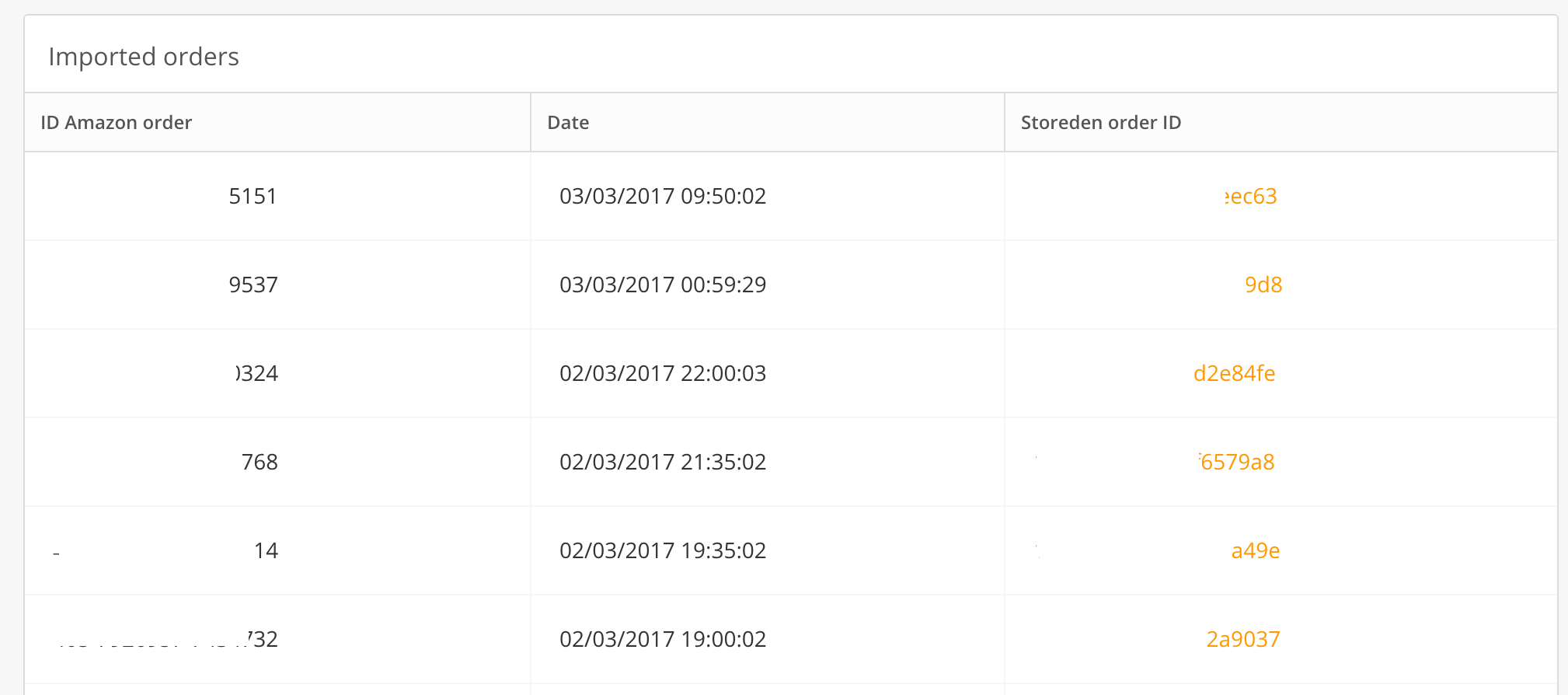 Produkte überprüfen
The screenshot below shows which products have some incongruities (product available on Amazon and not Storeden).