Make sure that in your catalog there are no products with duplicate SKU codes and that the main SKU is different to the SKU of the product variants, which must all be different from each other. The same applies to the EAN.
Once you have correctly configured both the category and attribute association and the general settings, you can start publishing the products.
The publication methods are three:
Automatic: from the Dashboard section, activate automatic synchronizations in the panel. You have to wait for the completion of a complete synchronization (which takes place every 12 hours) to get the first products published on eBay.
Manuals (complete): from the section Synchronizations > Listings

Select the categories you want to process (we recommend not selecting too many categories at the same time but proceeding with a few products at a time)
Click on the "Sync now" button
Wait for the synchronization to complete
At the end, you will receive an e-mail with a link to the report to check
Pay attention: wait until a synchronization is complete before starting another one.

Manual (inventory): from the section Synchronizations > Listings clicking on "Synchronize Now" under the heading "Inventory" it is possible to start an immediate and complete synchronization of the inventory which allows to update only the prices and quantities of all products. This feature can only be used when there are listings in the eBay catalog.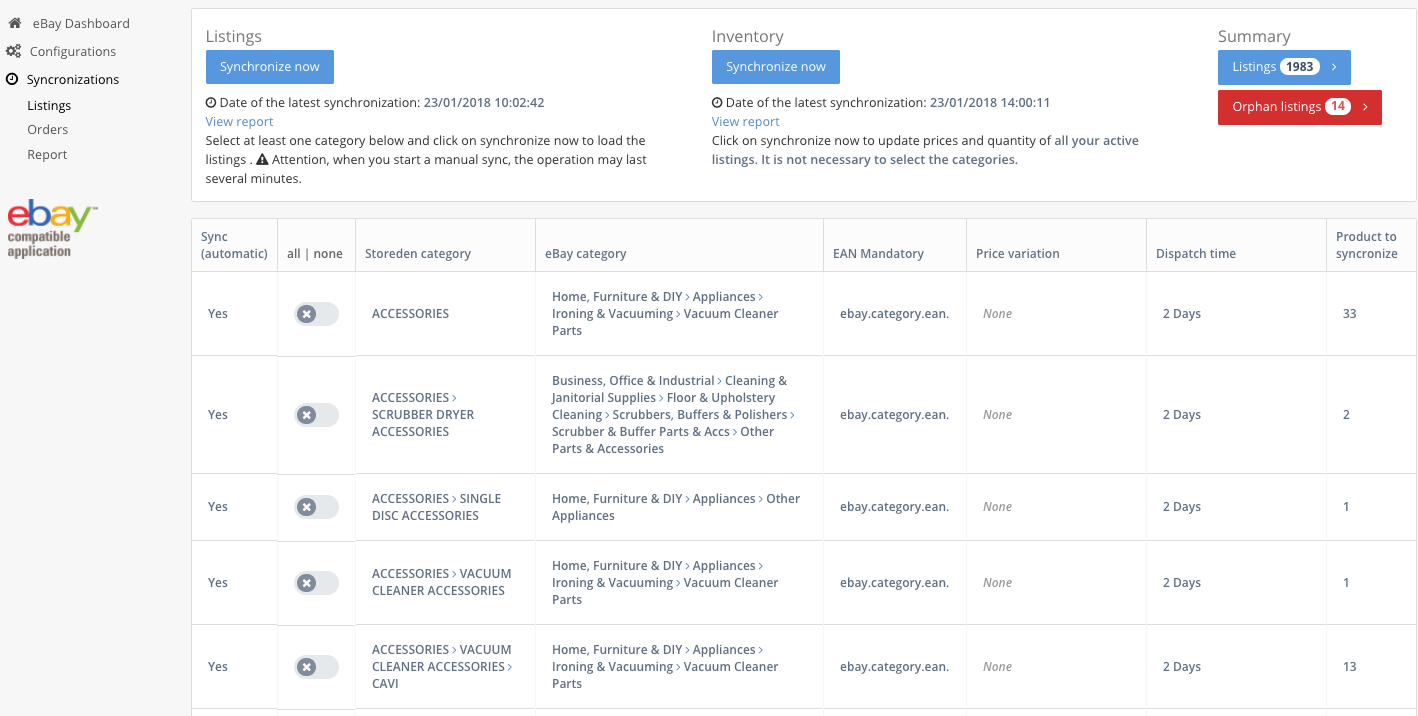 Within the same section it is possible to view the active listings by clicking on the Listings button or the orphan listings by clicking on the orphan Listings button.
Orphan listings are those whose product no longer exists in Storeden.
Entering the section dedicated to the listings you can see all the active listings, and can filter by insertion ID, product ID and SKU.

In correspondence of the listing ID (second column) by clicking on Preview you can see the preview of the listing, while clicking on Modify it is possible to change the status of the listing or update the listing id (useful in case of discrepancies between the two systems that sometimes can occur).
Finally, with the Disconnect button it is possible to delete any listing reference between Storeden and eBay. This listing will remain valid in your eBay store but Storeden will no longer be able to handle it. If the product is still enabled for synchronization, Storeden will publish a new listing. Pay attention: this could lead to the creation of duplicate listings and consequent problems from eBay.