Under the section Ecommerce > Domain, Storeden allows you to set up one or more website for your store. Once you have registered to Storeden, a third-level domain has been assigned to you (e.g.: my-domain.storeden.com )

You can use the third-level domain that you set, but we recommend to insert a second-level domain for your store (e.g. www.my-domain-com ).
The second-level domain can be bought through the Storeden platform by clicking on "+ Buy Domain" or you can associate your personal domain from the button "Do you want to use your domain?"
For associating a domain of your own, click on "Do you want to use your domain?" A window will open where you can fill in your domain.
Pay attention! If your domain is not configure in DNS terms, your shop will not be reachable.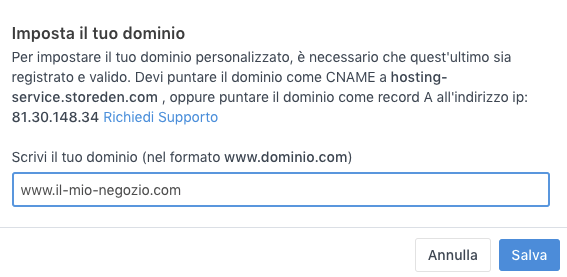 Clicking on the Save button, the domain will be associated to your store. If Storeden will fail to properly validate the DNS configuration, an error will be displayed. You can choose to assign it as well clicking on "Proceed anyway" or change the domain.
Once done, you have to enter into the DNS management of your domain provider and address the A record to the ip 81.30.148.34 or the CNAME to hosting-service.storeden.com